This guide covers the following topics:
1. Choosing the right package…
2. Choosing the correct weight…
3. Safety gear…
4. Warranty information…
5. Delivery times…
6. Online manual
---
1. Choosing the right package…
There are a few different Pro-Jump Jumping stilt packages that we offer, ranging from junior Pro-Jump's to adult Pro-Jump Jumping Stilts with upgrades. The following information can help you make the right choice.
Junior Pro-Jumps: These are ideal for children under 5ft tall and weighing between 18 – 55kg. If you are a growing teenager and around 5ft tall and weigh 48kg or more, you may want to consider going for the adult model as you will be able to "grow" into it and these will last you longer. If you are having trouble deciding which one to go for, why not join our forum where lots of Bocker's can help you make the right choice.
Adult Pro-Jump Jumping stilts: There's currently 3 packages you can choose from when ordering Adult Pro-Jump Jumping stilts. These stilts are suitable for people 5ft or over and weighing around 48kg – 110kg.

Pro-Jump Jumping stilts: If you are on a budget, new to the sport and just want to see what the craze is all about then these are the ones for you. They will allow you with practice to do everything you see in the adverts and it is only your health, ability or imagination that can hold you back.
Adult Pro-Jump+ Jumping stilts: A new addition to our catalogue after popular demand! For those that don't need a knee bar and want to start of with Calf Cuffs this is a must. These stilts come with the Cuff Cuffs and Pro-Bindings already fitted and look totally fantastic. Some users find that the calf cuff allows more of a better fit than the knee bar and find it less restricting when doing stunts. The Pro Bindings provide better comfort and are higher quality than those provided with the standard set.

3pc Kit: Pro-Jump Jumping stilts with Calf Cuffs and Pro-Bindings: Our best selling package and for a very good reason. This package consists of Pro-Jump Jumping stilts and two upgrades: Calf Cuffs and Pro-Bindings and we are really spoiling you on this as you will be making a saving of £10 if bought separately. The Pro-Bindings, not only look fantastic but provide the user with a more secure fit and lots more comfort due to the shape and extra padding. This Kit is great as you can start off with the knee bar and then swap over to the Calf Cuff when you are ready. You can also swap over to the Pro-Bindings straightaway and then you always have a spare set of bindings for a rainy day!
---
2. Choosing the right weight…
This guide covers the following topics for first time buyers only:
A. What the numbers mean?
B. What is the best size for me?
C. Can a more spring size be ordered?
D. What will happen if I buy the wrong size?
E. Why is this guide only for first time buyers?
A. What do the numbers stand for?
The numbers next to model names indicate what the spring strength range is. For example "M60" means that the spring strength will be anything between 60-69kg, an M100 would be 100-119kg
"F" before the number means it is a Junior size "M" before the number means it is an Adult size

B. What is the best size for me?Probably the one question that we get asked most frequently and most likely the one that is the hardest to answer to perfection! This guide is made gathering information from our users, it is a guidence only if you have doubts then you are encouraged to seek further advise from our forum.

As a general rule of thumb it is said to always go for a model about 10kg more than your actual weight, but as the spring sizes are not specific and have a range to them as explained above it can get a little tricky. It is important to ask your self a few questions before you make a final decision. As every user is different it's quite difficult to give a clear-cut answer on the perfect size as many variables play a factor in what is more suited to you.
Questions that may influence what size you buy:
1. Are you from a sporting background which has helped strengthen your leg muscles? If you are from a sporting / athletic background, especially gymnastics, parkour or freerunning and are very close to the upper limit of a weight band or coming just short of one it is always better to move to the next one up as you will get more out of your jumping stilts. If you don't do that much sport and have never given your leg muscles a work-out then we would advise not going any higher than 10kg over your actual weight as this will hinder your progression and you may find gaining height and doing tricks harder you may even want to only go 7kg above your weight in this case.

2. Confused whether to go for the Junior F60 or adult M60? If you fall into the weight range suggested for these stilts then your height also plays a part. If you are 5 ft or over it is advised that you go for the Adult M60 model. The reason for this is the junior stilts will come too low for you and you will out grow them very fast especially if you are a growing teenager.

Below is a guide that we feel would help you choose if you are a first time buyer, this guide assumes that the "first time buyer" takes part in some sports, is in good health and a young adult – please click to enlarge the image: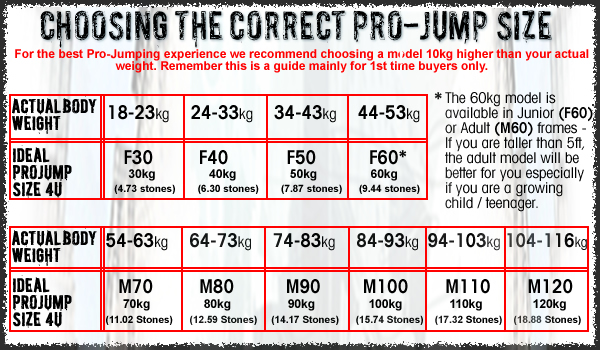 Still not sure? Please have a browse on our forum as there has been so much discussion on this.

C. Can I order a more specific size? A more specific spring size can be ordered only under the "SPRING SWAP SERVICE" This service costs an extra £15 (unless it states on the buy now page that the charge is included) and means that a Pro-Jump Specialist will change the springs over from a new pair of Pro-Jumps and replace them with the spring size of your choice provided we have it in stock.
There is a charge of £15 for this service as it involves unpacking a box of Pro-Jumps, Removing the springs that are in there, Replacing the springs to the size you requested and repackaging the box again to a high standard. There may be a 24hour delay in dispatching these to give our specialists enough time to provide the service.
D. What will happen if I buy the wrong size? If you buy a spring that is too weak for you, you will find that once you have corrected your technique to get the most out of your springs you are not able to get a lot out of them as they are too soft and you are not getting much return from them. In the Pro-Jumping / Power Bocking world this concept is "bottoming out" there is more info on this in our forum – please click here for details. Buying springs that are weak will also mean that they are likely to become weaker / softer more quicker and you may need to upgrade your springs too quickly. It may also shorten the lifespan of your spring.
If you buy a spring that is too strong for you, then you are likely to make your learning curve a lot harder. The springs will hinder your progress as you will have to put a lot of effort in in order to get any return from them and they will also make you tire a lot faster. Many people who buy stronger springs often get frustrated with the sport as they find they are getting very little air and cannot perform the tricks and jumps they were hoping too.
If you have brought the wrong size and used them, then unfortunately due to the nature of the equipment we can not exchange or refund them for you as due to the nature of the product straight away it depreciates in value and we cannot resell this package again at the full price. If you have not used them then you can return them at your cost to us for a full refund minus postal charges (Charged at £14.99 for mainland UK and whatever was paid on purchase for other parts of the world) or an exchange plus postal charges. This does not affect your statutory rights

E. Why is this guide only for first time buyers? Once a person starts using jumping stilts they can usually identify what the best choice for them is when they need to upgrade their stilts. This sport is not limited by age or fitness level but can only limited by your health, your personal boundaries or simply your imagination.
Some users have gone from having no sporting background and using the stilts from basic jumping to advancing their skills to incorporate split kicks, high jumps and even flips in a matter of a few months. These users have often spent alot of time on their Pro-Jumps and found a technique which helps them get the most out of their springs and how best to activate them, they often go even 25kg over their actual weight when they pair their second pair.
Other users have found that the 10kg rule is almost right for them and on their second pair decide to go for the same spring strength again or opt for something only a few kgs above what they had previously.

If you have any other before you buy questions, then why not visit our forum on www.ProJumpForum.co.uk where lots of members will help you make the right choice or you can also contact us.
---
3. Appropriate safety gear…
It's always better to be safe than sorry, when on Jumping Stilts your feet are about 45cm above ground level, so it's a long way down if you fall! As with any sport, Injuries do happen but they are few and far between and by wearing wrist pads, knee pads, Elbow pads and a helmet most injuries can be avoided. Take a look at the following forum topic explaining exactly what you need.
---
4. Warranty info… 
Buying from Pro-Jump.co.uk not only means the best prices anywhere but also means that you will get fantastic customer service and a good warranty. Your Jumping stilts are covered by a 6 months warranty on the frame and a 3 months warranty on the spring. So if something goes wrong, just get in touch and we will sort it out. More information on warranty and how to put in a claim can be found in your manual.
---
5. Delivery times… 
We know the worst thing about ordering online (especially something that is so much fun like Pro-Jump's) is waiting for the postman to knock on your door with a big box for you to rip open. Here at Pro-Jump HQ we pride ourselves on fast delivery and aim to despatch all orders the same working day if ordered by 1pm. All Pro-Jump's are posted out on a next working day service if you live in mainland UK. We also have timed delivery options for those that just can't wait 🙂 

Our couriers have an excellent success rate but sometimes bad weather, accidents and other things can cause delays so please allow them a couple of days before you contact us. All parcels are tracked so if it's been three working days since you ordered your  Pro-Jumps and they still have not been delivered, just contact us and we will chase it up for you straight away.
---
6. Pro-Jump's Online Manual… 
We're now on Version 4 of our manual, and this one has loads of information, set up guides, do's and don'ts and lots of tips and hints from respected PowerBockers from The Pro-Jump Forum.  If you have just ordered and waiting for your Pro-Jump's then get reading this as it has a wealth of information, so when you get your Pro-Jumps you will know exactly how to set them up and precisely what to do…. but if you haven't ordered it's still a good read and hopefully it will tempt you to buy some 😀 
Click here to read our manual

If you have any other before you buy questions, then why not visit our forum on www.ProJumpForum.co.uk where lots of members will help you make the right choice.